The Blended Learning Journey
As part of the SMU Digital Learning Strategy, SMU has embarked on a blended learning approach that combines both face-to-face and online learning whilst keeping to its distinctive learning pedagogy and small class size. Students will be better prepared to leverage digital tools to solve problems, produce innovative solutions, and enhance collaborative opportunities in order to navigate the ever-increasing digital world.
The Student Success Centre supports this initiative which aims to help students transit seamlessly from learning in a fully physical classroom setting to a blended learning environment. 
In collaboration with the Centre for Teaching Excellence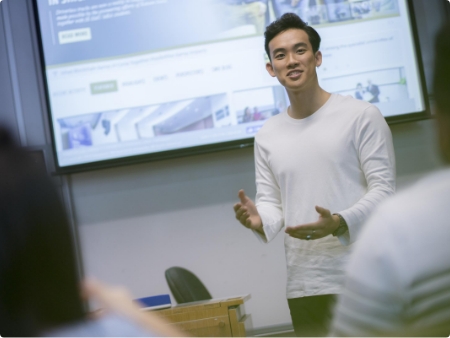 SSC Mentoring Programmes
The Student Success Centre Mentoring Programmes hopes to nurture an environment where students can build meaningful relationships, share knowledge and experience, and support and encourage each other throughout their academic learning journey in SMU.
SSC's Mentoring Programme is a 3-category approach, namely: Within Scholarships, Across Scholarships and Across SMU. 
Objectives

Increase social connection and building a sense of belonging within peer support networks

Facilitate exchange of academic information and resources 

Provide opportunities for mutual learning and gaining new perspectives

Enhance personal communication and social skills
Calling for Mentors
 If you wish to register your interest in becoming a mentor, please email the Student Success Centre at ssc@smu.edu.sg for more details.